Laila Shawa
Gaza: Palestine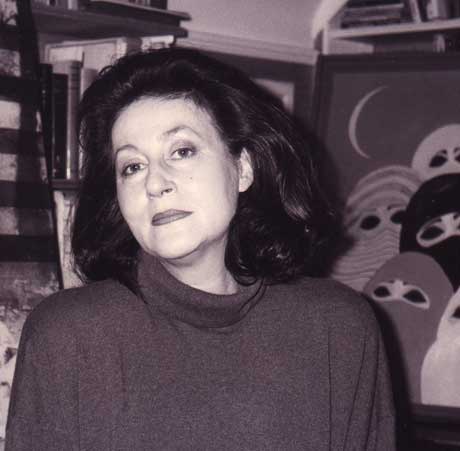 "In 1990 I had breast cancer. While undergoing radiotherapy, I watched on television the precision bombing of Baghdad by US airplanes, forever linking the two events in my mind and in my art. The body woman and the body land amalgamate; the invasion of one is equated with the invasion of the other and the implicit fact that both leave scars." - Laila Shawa
Palestine's leading pop-artist, Laila Shawa, was born in Gaza to a wealthy and politically influential family. She was exposed to art early; Boarding School in Cairo then serious training at the Leonardo Da Vinci School of Art in the late 1950s. From 1958-1964, she studied in Rome spending summers at Oskar Kokoschka's School of Seeing in Salzburg. After her studies Shawa went home to supervising arts and crafts education in refugee camps for UNWRA, but moved to Beirut in 1967 to paint full-time for nine commercially successful years. When the Lebanese civil war started, she returned to Gaza and collaborated on the building of the Rashad Shawa Cultural Centre.
Shawa's oeuvre reflects an artist intensely engaged with the physical aspect of production, moving with ease across media from oil on canvass to print and, more recently, to installation. Her early work is decorative, playful and sumptuous. Hybrid between east and west, it footnotes her mentor Kokoschka, Paul Klee and the Viennese decorative-abstract artist Hundertwasser. At the same time, she started to look at Islamic architecture, discovering the detail in things, and began to intellectualize themes that would mature into some of her best-known works 20 years later. Simultaneously she explored the female figure, all colourful flat planes and sinuous curves, and began a socio-critical series on prostitution. Women, the relationship between the female body, society and politics has run like a thread through her work ever since.
In 1987, Shawa moved to London and began working with extraordinary ferocity. She started a critique of the veil, resulting in ostensibly humorous paintings like The Impossible Dream. Now in the collection of the National Gallery of Jordan, Amman, the painting depicts a group of women holding ice cream cones in front of their veiled faces, trapped in a catch 22-moment between desire and convention
The next series explored the surprisingly widespread practise of magic and witchcraft in Islam, resulting in iconic paintings like the Hands of Fatima. She researched its Sumerian, Assyrian and Egyptian roots and conducted an informal survey on the prevalence of superstitious practices.
She gained international recognition with her long series of silk screens and prints collectively known as The Walls of Gaza. Evolving from photographs taken of graffiti appearing on the houses of Gaza during the first Intifada, they represent both, a powerful record of spontaneous and ephemeral communication during the media blackout enforced by Israel, as well as a bizarre mode of engagement between occupiers and occupied. The writing on the walls carried anything from personal communiqués to political slogans and calls for strikes to the Palestinian public. Initially, Shawa was interested in the texture, the overlay and impasto of the walls, rather than the content of the messages. In time, children entered the picture, resulting in such powerful creations as Children of War, Children of Peace, illustrating the presence of a traumatised generation with graphic simplicity. Her choice of medium recalls advertising - quick, direct and colourful. In a sense, this departure from the traditional paint medium may be understood as a form of liberation, a shedding of her western art-education and the appropriation of a truly international medium. Her pioneering work utilizing photography as an integral part of art production has, almost certainly, left a lasting legacy to contemporary Palestinian art.
She has since examined the use of multi-media with such controversial installation works as Crucifixion 2000: In the Name of God at the Ashmolean Museum, Oxford, and her immediate reactions to 9/11 in the form of sculpture. Recently she has completed a major series called Sarab, a poignant response to the state of Dubai utilizing Islamic geometric design elements. In January 2009, in response to the terrible invasion of Gaza by Israel and the high death toll among children she has commenced a Gaza III series and is collaborating with Scottish Artist Jane Frere on an exhibition reflecting on the Wall dividing Palestinian villages and Israeli settlements.
Her work graces major public and private collections across the globe.
CP 2009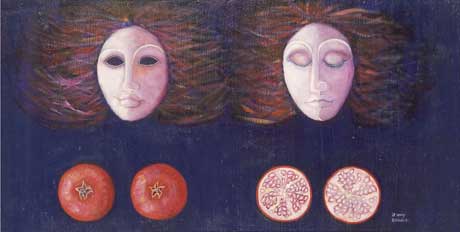 If Only I
Acrylic on Wood Panel
90x45cm
2003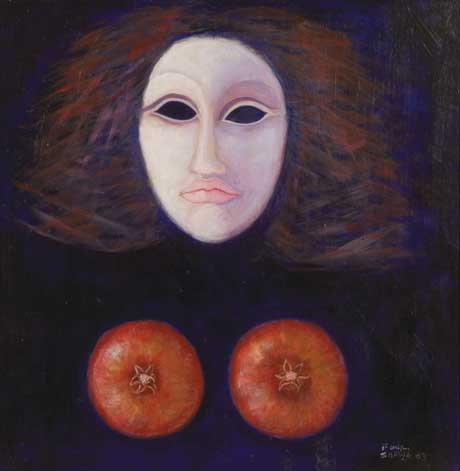 If Only II
Acrylic on Wood Panel
39x39cm
2003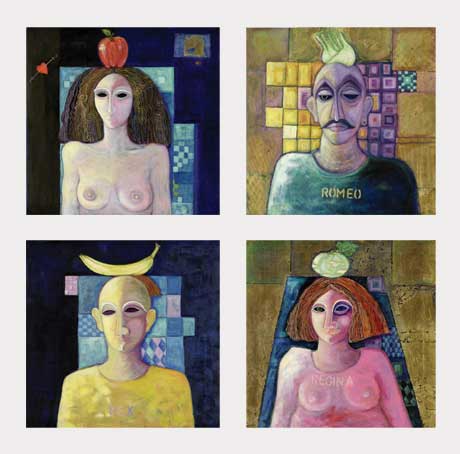 Fruit People: Eve, Romeo, Rex and Regina
Four separate canvases, Acrylic, Gold and Metal Leaf on Canvas
60x60cm per canvas, depth of box/stretcher 8cm
2002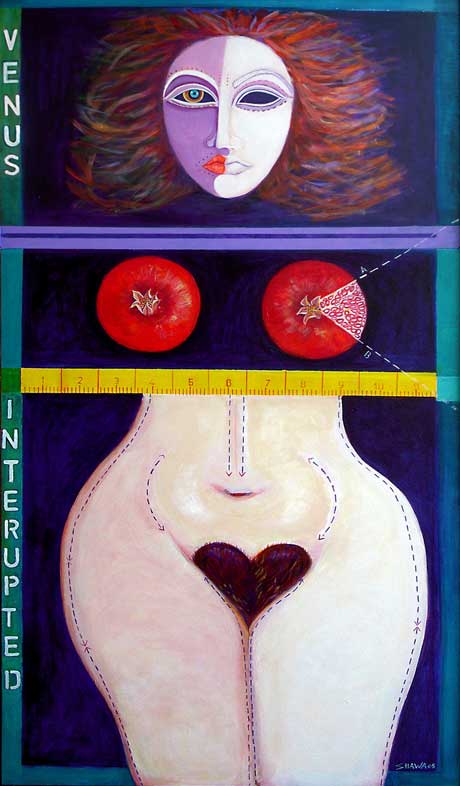 Venus Interrupted
Acrylic on Board
63x122cm
2003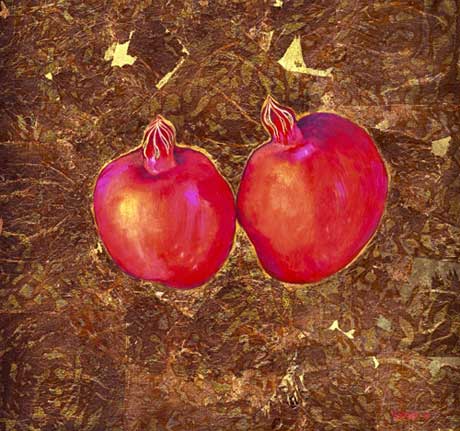 Fruits of Paradise
Acrylic and Gold Leaf on Board
50x50cm
2009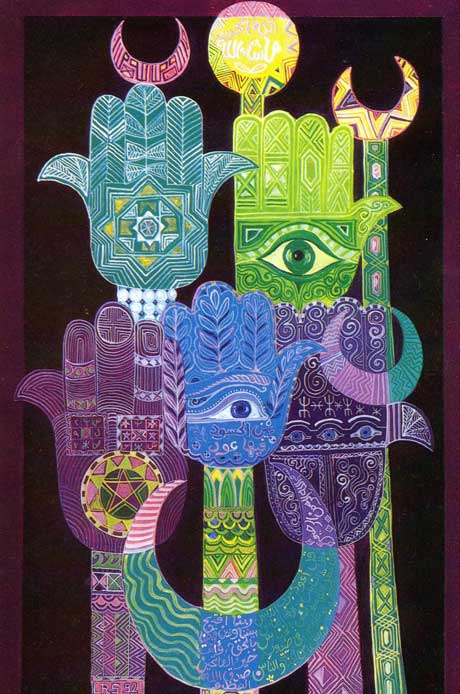 Alams (Standards)
From the series Women and Magic
Offset Print (ed. 200)
60x40cm
1992
25 available at Rumwell Park Exhibition